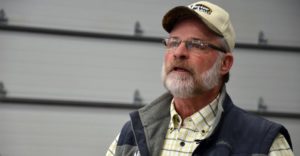 IN the NEWS – January 2017:  5 Future changes in fertilizer application
Crops consultant Joe Nester expects changes in how fertilizer can be used. However, he still believes good managers will use nutrients to make a profit.  Indiana Prairie Farmer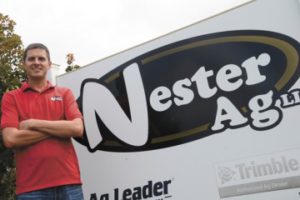 IN the NEWS – September 2016:  The right time for fertilizer application pays (because the wrong time is so costly) Click to follow link: Ohio Country Journal – The Right Time for Fertilizer

---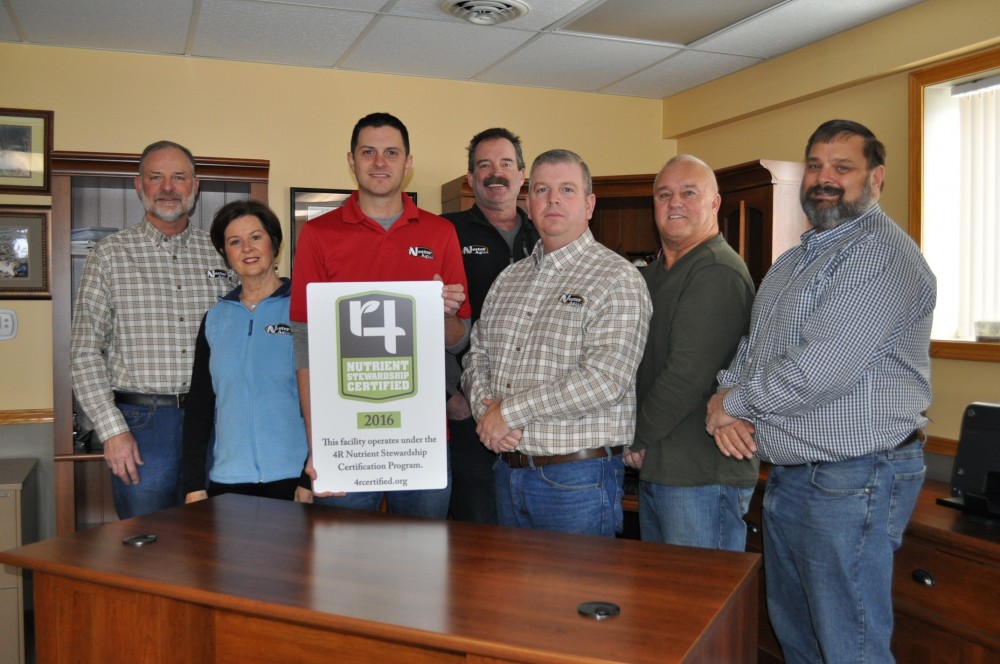 Nester Ag, LLC is the first independent crop consulting company to earn certification with the 4R Nutrient Stewardship. Follow link for full story: 4R Nutrient Stewardship Certification
---

CCA SPOTLIGHT: Joe Nester, left, is presented the CCA of the Year Award from Andy Lang from DuPont Pioneer, center, and Tim Berning, right. Nester is an independent ag consultant from Bryan. He often speaks to such groups about how a no-tiller can manage soils in a way that maximizes nutrient recovery, water and air infiltration and environmental stewardship.
____________________________________________________________________
From the Ohio Farmer magazine:
Nester named top CCA Tim Berning, president of the Ohio Certified Crop Advisers, made it short and to the point in presenting the annual CCA of the Year Award at the Conservation Tillage conference.
"We all know Joe Nester from the many presentations he has made to audiences around Ohio and the Midwest. Pretty hard to imagine a better person to win this award."
Joe Nester started Nester Ag, LLC, in Bryan, 1993 after managing a large retail fertilizer plant for 16 years. Nester Ag provides independent agricultural consulting to customers in northwest Ohio, southern Michigan and northeastern Indiana.
He built the company because he saw a need for fertilizer recommendations and nutrient management planning independent of fertilizer sales. Today, Joe and his team of agronomists provide dedicated service and unique fertility recommendations for each client.
"Nester Ag's business is to make the farmer more profitable," he says. "Ideally the best way to be profitable farming includes great nutrient efficiency and recoverability, striving for the nutrients that are applied to get in the crop. Recoverability of the nutrients is king in profitability, and environmental stewardship."
Nester follows a system that gives farmers an excellent opportunity to manage nutrients in the most profitable way available. That is using a combination of soil type and yield zone management. Good yield maps can lead the agronomist and farmer to a geo-referenced blue print that will be the starting basis for sound VRT applications in the future.
"This system takes information from the crop, the farmer, and the agronomist with regional experience on thousands of like acres, and fits it into management zones from 8 to 12 acres, depending on the soils," Nester says.
To make the best nutrient recommendation possible, the soil test needs to be "representative". If it is not, the laboratory analysis can be misleading and result in lost profit potential. We are confident that we can gather samples that well represent the various cropping zones within your fields, so your top profit potential is possible. Does your current method of representing field exchange capacity, nutrients, and pH give you an accurate inventory, or just a number that is used to base nutrient management on field average or inaccurate levels of nutrients?
"Variable rate fertilizer and lime recommendations made off these yield management zones are working well for our top clients," he says. "Rates of fertilizer can easily vary 150 to 200 pounds per acre within a field, and this can mean savings of $50 to $70 an acre for one year."
____________________________________________________________________
Joe Nester and Clint Nester were both featured as speakers at the 2013 Midwest Soil Improvement Symposium. Gypsum and its role as a soil amendment was the main focus of the discussion. Soil quality and soil health topics were covered as well as several panels that included consultants, applicators and farmers who discusssed their experiences with Gypsum. Below is a video of Joe Nester's talk about the science behind how gypsum improves soil health.
________________________________________________________________________________________________________________________________________
Joe Nester will again be a speaker at the 20th Annual National No-Tillage Conference. This years conference is January 11-14 in St. Louis, Missouri. Joe's talk is titled "Getting Many Happy Returns With Variable-Rate Fertilizer Applications."
Are you confident you are getting the most bang for your buck with your fertility program? Are nutrient recommendations and guidelines from 30 years ago adequate today? Joe Nester, an independent ag consultant from Bryan, Ohio, will share his extensive experience with soil tests and their interpretation, how they are representative of a field and how to manage nutrients with the results. Nester will share how a soil test that shows adequate fertility levels doesn't guarantee efficient recovery of those nutrients. He will show how the no-tiller that manages soils in a way that maximizes nutrient recovery, water and air infiltration and environmental stewardship will be hard to compete with. And he will discuss ways your no-till operation can utilize precision ag tools for better yields and a better bottom line.
Visit www.no-tillfarmer.com to register for this years conference.